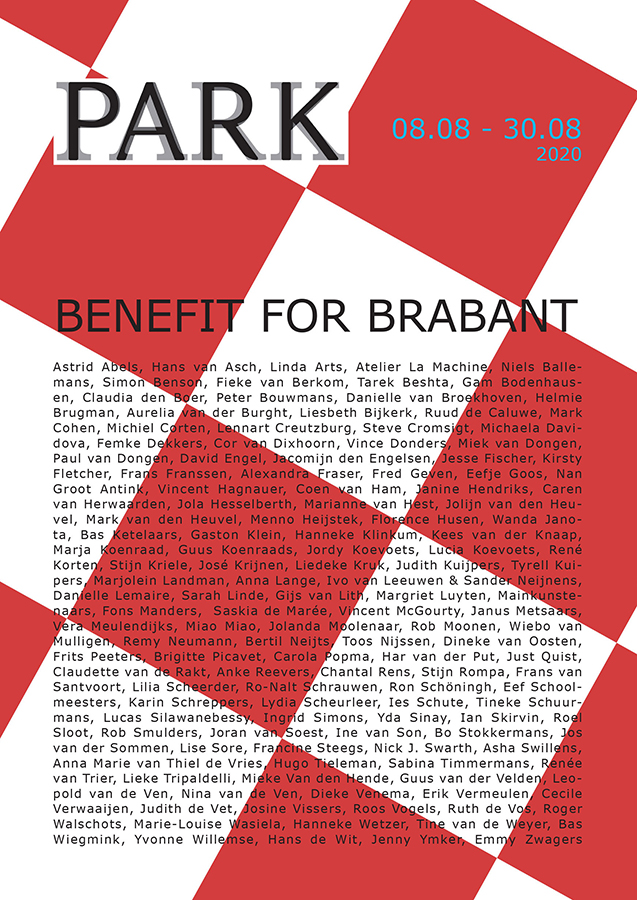 BENEFIT FOR BRABANT
benefit exhibition
08.08 - 30.08 2020
Art in times of corona
The corona virus and a new provincial government. These are uncertain times in general and for Noord-Brabant in particular. We cannot yet see what lies ahead, but it is clear that the crisis is having a major impact in many areas of society. Corona has largely paralyzed the cultural sector. If the new provincial government of Noord-Brabant can realize its ambitions with 'Ons Brabant' in the field of culture, the scrambling initiated by corona will be finalized with the end of a provincial culture policy.
Many cultural institutions in Brabant will have to close their doors, the business climate will become impoverished and Brabant artists will lose a large part of their clients and exhibition venues and thus enter a very uncertain future.
In order to support specific Brabant artists during this difficult time, PARK organizes the benefit exhibition BENEFIT FOR BRABANT. A selection of 138 artists has been made from more than 200 submissions, each of which can show two works. The works are for sale, 100% of the proceeds go to the artist.
Participating artists:
Astrid Abels, Hans van Asch, Linda Arts, Atelier La Machine, Niels Ballemans, Simon Benson, Fieke van Berkom, Tarek Beshta, Gam Bodenhausen, Claudia den Boer, Peter Bouwmans, Danielle van Broekhoven, Helmie Brugman, Aurelia van der Burght, Liesbeth Bijkerk, Ruud de Caluwe, Mark Cohen, Michiel Corten, Lennart Creutzburg, Steve Cromsigt, Michaela Davidova, Femke Dekkers, Cor van Dixhoorn, Vince Donders, Miek van Dongen, Paul van Dongen, David Engel, Jacomijn den Engelsen, Jesse Fischer, Kirsty Fletcher, Frans Franssen, Alexandra Fraser, Fred Geven, Eefje Goos, Nan Groot Antink, Vincent Hagnauer, Coen van Ham, Janine Hendriks, Caren van Herwaarden, Jola Hesselberth, Marianne van Hest, Jolijn van den Heuvel, Mark van den Heuvel, Menno Heijstek, Florence Husen, Wanda Janota, Bas Ketelaars, Gaston Klein, Hanneke Klinkum, Kees van der Knaap, Marja Koenraad, Guus Koenraads, Jordy Koevoets, Lucia Koevoets, René Korten, Stijn Kriele, José Krijnen, Liedeke Kruk, Judith Kuijpers, Tyrell Kuipers, Marjolein Landman, Anna Lange, Ivo van Leeuwen & Sander Neijnens, Danielle Lemaire, Sarah Linde, Gijs van Lith, Margriet Luyten, Mainkunstenaars, Fons Manders, Saskia de Marée, Vincent McGourty, Janus Metsaars, Vera Meulendijks, Miao Miao, Jolanda Moolenaar, Rob Moonen, Wiebo van Mulligen, Remy Neumann, Bertil Neijts, Toos Nijssen, Dineke van Oosten, Frits Peeters, Brigitte Picavet, Carola Popma, Har van der Put, Just Quist, Claudette van de Rakt, Anke Reevers, Chantal Rens, Stijn Rompa, Frans van Santvoort, Lilia Scheerder, Ro-Nalt Schrauwen, Ron Schöningh, Eef Schoolmeesters, Karin Schreppers, Lydia Scheurleer, Ies Schute, Tineke Schuurmans, Lucas Silawanebessy, Ingrid Simons, Yda Sinay, Ian Skirvin, Roel Sloot, Rob Smulders, Joran van Soest, Ine van Son, Bo Stokkermans, Jos van der Sommen, Lise Sore, Francine Steegs, Nick J. Swarth, Asha Swillens, Anna Marie van Thiel de Vries, Hugo Tieleman, Sabina Timmermans, Renée van Trier, Lieke Tripaldelli, Mieke Van den Hende, Guus van der Velden, Leopold van de Ven, Nina van de Ven, Dieke Venema, Erik Vermeulen, Cecile Verwaaijen, Judith de Vet, Josine Vissers, Roos Vogels, Ruth de Vos, Roger Walschots, Marie-Louise Wasiela, Hanneke Wetzer, Tine van de Weyer, Bas Wiegmink, Yvonne Willemse, Hans de Wit, Jenny Ymker, Emmy Zwagers
No opening will take place in connection with Covid-19. We count on your understanding.
Note: the first visit day is Saturday, August 8.
Opening hours during the exhibition:
Friday 1-5 pm
Saturday 1-5 pm
Sunday 1-5 pm
Free admission
Click here for the exhibition guide (in Dutch)
In the media: