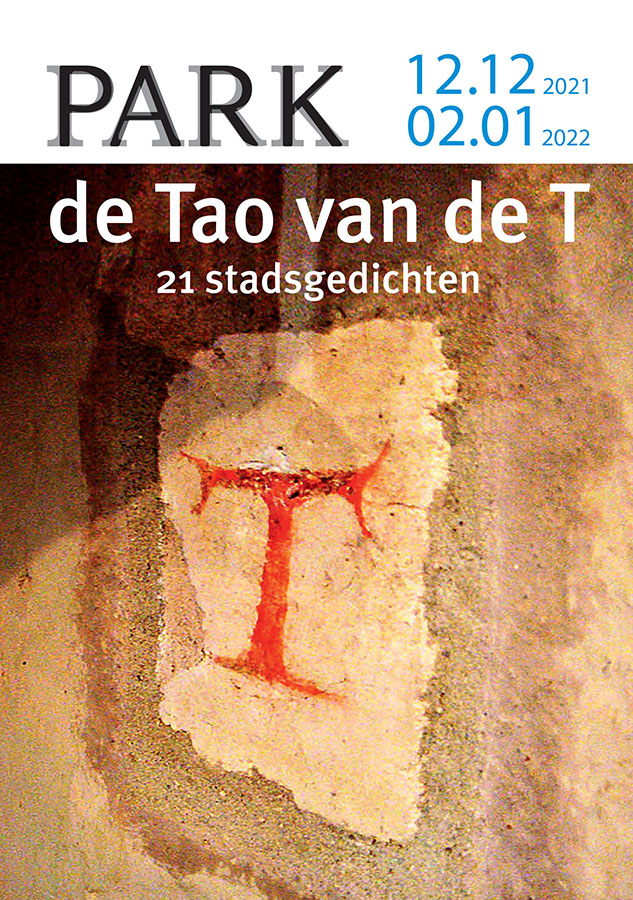 DE TAO VAN DE T
exhibition
12.12 2021 - 02.01 2022
Due to the new lockdown, PARK has to close its doors for the time being: we will be closed from Sunday 19 December.
For the past two years, A.H.J. Dautzenberg was city poet of Tilburg. He was inspired by the sound poet Antony Kok, one of the foremen of De Stijl. During that period, he involved various art disciplines in his plans – 'poetry is more than words, more than lines of verse'. Each month a poem by himself and an adaptation by each time a different Tilburg artist was presented. It has become a series of 21 works of art, from musical compositions and dance to photography, installations and a puppet show.
The adaptations were made by Frank Crijns, Janine Hendriks, Nick J. Swarth and Tom Pijnenburg, Merijn Bisschops, Rohiet Tjon Poen Gie, Sjon Brands, popkoor AkoorT, Boris and Jeroen de Leijer, Rob Moonen,
Tom America, Roads de 1'3, Marjolein Schalk, Linda Arts, Roland Samuels, Marieke Vromans, Max Niematz, Paul van Rijswijk, Sigrid Calon, JACE van de Ven, Jan Doms and Annemijn Rijk.
PARK pays tribute to Dautzenberg's initiative and creates an exhibition in which all contributions can be seen.
The opening is on Saturday December 11 at 3 pm. During the opening A.H.J. Dautzenberg will recite an essay that he specially wrote for this show, in which he expresses his views on his period as city poet. He refers to the sound poet Antony Kok and to De Stijl and argues, among other things: "Counterparts need each other, opposites fight each other". Here a link to the essay (in Dutch).
After that, former city poet JACE van de Ven and current city poet Roads de 1'3, respectively responsible for adaptation XIX and XI, will speak. You are most welcome.
Upon access, your QR code will be checked. Please take into account the current corona measures.
Several other live performances of adaptations follow on Saturday 18 and Sunday 19 December. For more information see 'activities'.

In the media:
- Tilburgers.nl - 01.12.2021
- Make it in Tilburg - 07.12.2021
- Brabant Cultureel - 06.12.2021