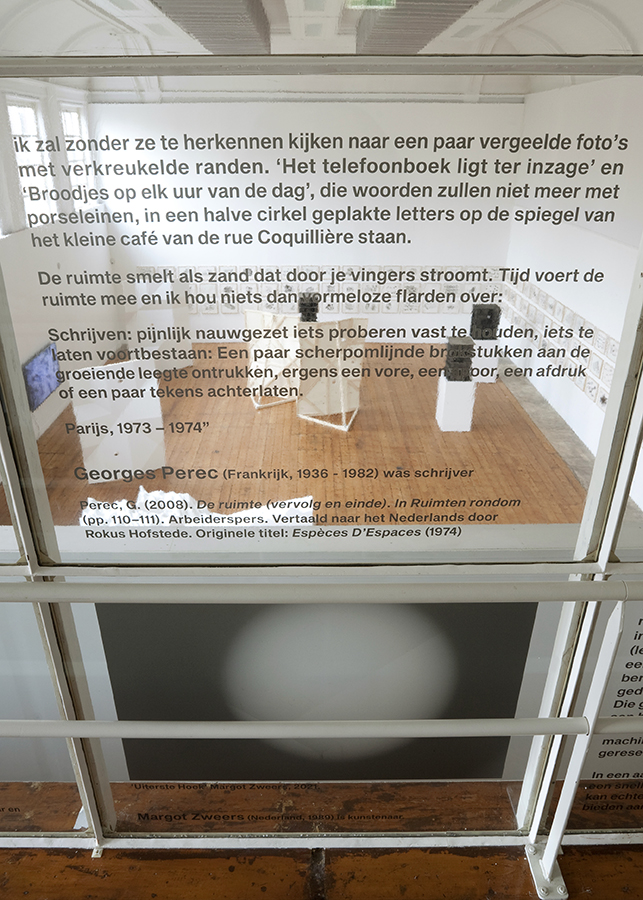 PARK-AVOND IS PAS D'ESPACE: HET ONVERMOGEN RUIMTE TE VANGEN
artist talk
02.12 2021
due to the new corona measures, this evening has been canceled
Listen to the pilot - floating in an infinite sky - and the skipper - on seas reaching to the horizon. To the train driver - limited by her rails - and the field worker, who sees the entire surface of the earth as a working area. To the collector – who captures space and wants to store it – and to the maker – who holds space where the light catches it. Listen to the observer – who watches sand landscapes change for centuries – and explore for yourself.
Until December 5, PARK is showing the exhibition IS PAS D'ESPACE by artists Maud van den Beuken, Margot Zweers and Loek Grootjans. Inspired by the French writer Georges Perec, they act on the belief that space can only be understood by segmenting, imagining or obsessively describing it accurately. Part of the exhibition is a glass wall publication (in print form free to take) in which different approaches to 'space' come together. Others – with diverse professions – have been invited by the artists to give their vision of space.
On 2 December, writer and curator Alex de Vries will have a conversation with four of them, artist and skipper Laura Schippers, engineer and artist Lenny Waasdorp, artist Marinus van Dijke, pilot and curator Hendrik Driessen and the artists themselves. The conversation forms a deepening of the publication: it deepens stories, explains perspectives and explores different positions. What connects the participants is the inability and at the same time the desire to capture and understand space.
You are welcome. For a safe visit to PARK, we ask you to give each other space and to stay home if you have complaints. Upon entrance, your QR code in your CoronaCheck app will be checked.

PARK open 7.30 pm
Starts at 8 pm sharp
Conversation 8 - 9.15 pm
Admission € 5 (preferably payment with pin)