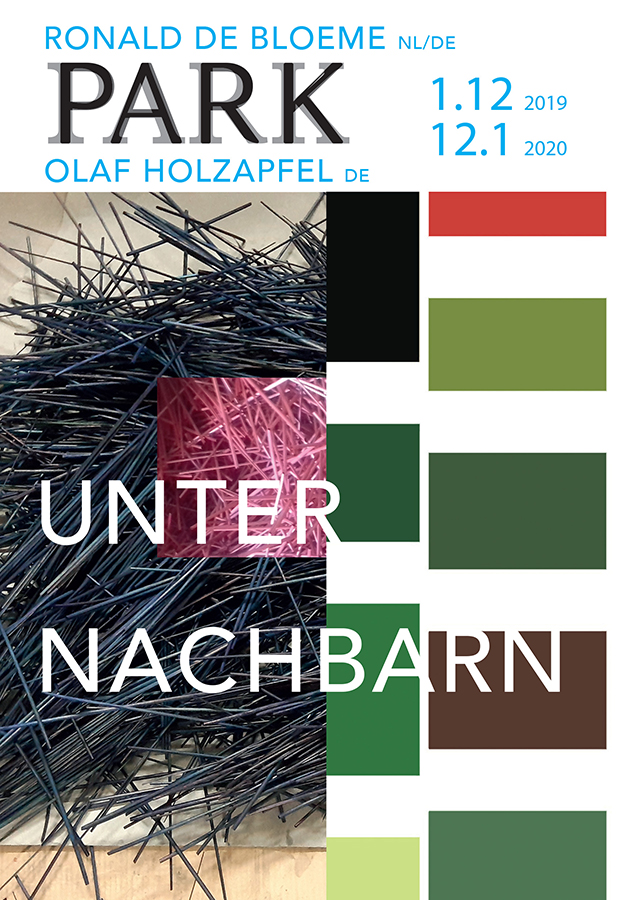 UNTER NACHBARN
exhibition
01.12 2019 - 12.01 2020
Ronald de Bloeme (NL/DE)
Olaf Holzapfel (DE)
UNTER NACHBARN shows the work of Ronald de Bloeme (1971) and Olaf Holzapfel (1967), who are artists in the same studio complex in Berlin. In PARK they exhibit as a duo for the first time.
The figurative elements in Ronald de Bloeme's work were collected in Berlin. From an interest in information systems such as the internet, but also weather maps, metro maps and packaging of consumer goods, De Bloeme forms his abstract compositions in which he uses colors and form as language. By making structures analogously visible, he questions the world that is communicated by our endless messages. He asks himself if there is such a thing as an unambiguous reality. Communication is complicated and complex. Can we understand each other when we always interpret?
The works De Bloeme shows in PARK are based on the short moment that the internet is faltering, like a glitch. Google shows a image as a color area, before the actual image is fully loaded. When De Bloeme entered his own name in Google, the search engine also a showed a palette of abstract colors. The work in PARK functions as an age-old motif in art: the self portrait. In his long, vertical works he visualizes our endless scrolling sessions on the internet with a mobile phone.
In the last ten years Olaf Holzapfel has often been working with natural materials from agricultural culture. In the production of his work he works a lot with local people. Holzapfel forms his work from a social attitude. The work encourages respect for our environment and calls for a renewed relationship between landscape and urban space. In this way it stimulates a changed awareness of the environment.
In PARK, Holzapfel presents a selection of new works of straw and reed from coming from a process of participation and interaction. He also shows the video work 100 meters in Tilburg in a special constellation of a kind of puppet show, in which he hay istransformed into a long rope by turning the fibers of the material in the same direction by people from Tilburg. The converting of raw material into objects is both a technical and a cultural activity. The collective act was performed during the former Incubate Festival in 2016 and the rope became later used for an art installation at the fourteenth Documenta in Athens.
You are cordially invited to the opening on Saturday 30 November at 4 pm which will be performed by Jannet de Goede, head of presentations at the Kröller-Müller Museum.
On the occasion of UNTER NACHBARN, De Bloeme and Holzapfel both made a PARK edition. The works can be seen in the exhibition and are for sale. See also our online shop.
Opening hours during the exhibition:
Friday 1-5 pm
Saturday 1-5 pm
Sunday 1-5 pm
Free admission
Click here for the opening speech by Jannet de Goede (in Dutch).
Click here for the exhibition guide (in Dutch).
In the media: