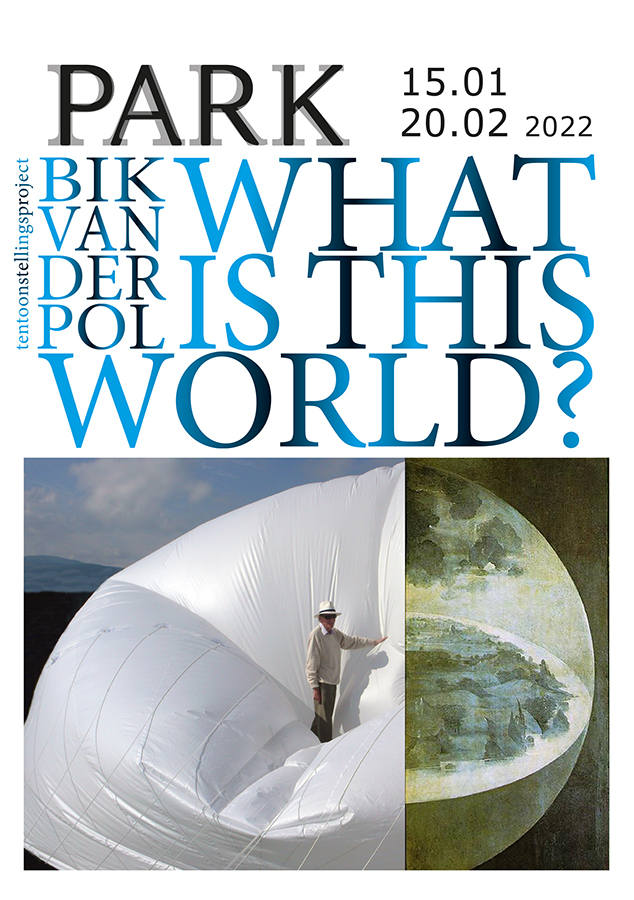 WHAT IS THIS WORLD?
exhibition project Bik Van der Pol
15.01 - 20.02 2022
Bik Van der Pol is a Dutch artist duo consisting of Liesbeth Bik and Jos van der Pol. Since 1995 they work together as Bik Van der Pol. They live and work in Rotterdam, and they see art as an 'instrument for exploration and reflection on social and political changes in a constantly changing landscape'.
What is this world? is a project that is gradually taking shape. It explores and connects a multitude of perspectives on and of the world, in dialogue, in the form of 'talk shows'.
A large ball, inflatable up to 8 meters, fills the space and forms a backdrop and background for discussion, and a stand-in for the 'world'. Participants and the public are invited to collaborate with the artists in a series of informal workshops and discussions, to actively contribute against the backdrop of this decor and fill the space with their ideas and imaginations about the current state and future of this world.
As a study object and teaser image, The Garden of Earthly Delights by Hieronymus Bosch and a new montage of One to One, a video work by Bik Van der Pol, are used to reflect on abundance, discomfort and loss. What is this world? is inspired by Pier Paolo Pasolini's La Rabbia (Rage), which was commissioned by Italian television in 1962 but never shown in public, and John Berger's reflections on this film about fear of war.
As part of What is this World?, dance and performance artist Helena Araújo will host, together with sound designer Marnix Van Soom, a tea party with the world on Friday February 11. Click here for all information.
On Sunday February 20, What is this World - a genealogy by sound collective Het Concreet will be presented as part of What is this World?. Click here for all the information.
PLEASE NOTE: Unfortunately, this live performance cannot take place due to corona. The presentation will be postponed until further notice.
We apply the corona measures in force.

In the media:
- Tilburg.com - 10.01.2022
- Stadvanmakers - 11.01.2022
- Make it in Tilburg - 11.01.2022
- Brabants Dagblad online - 15.01.2022
- Brabants Dagblad - 15.01.2022
- Metropolis M - 27.02.2022