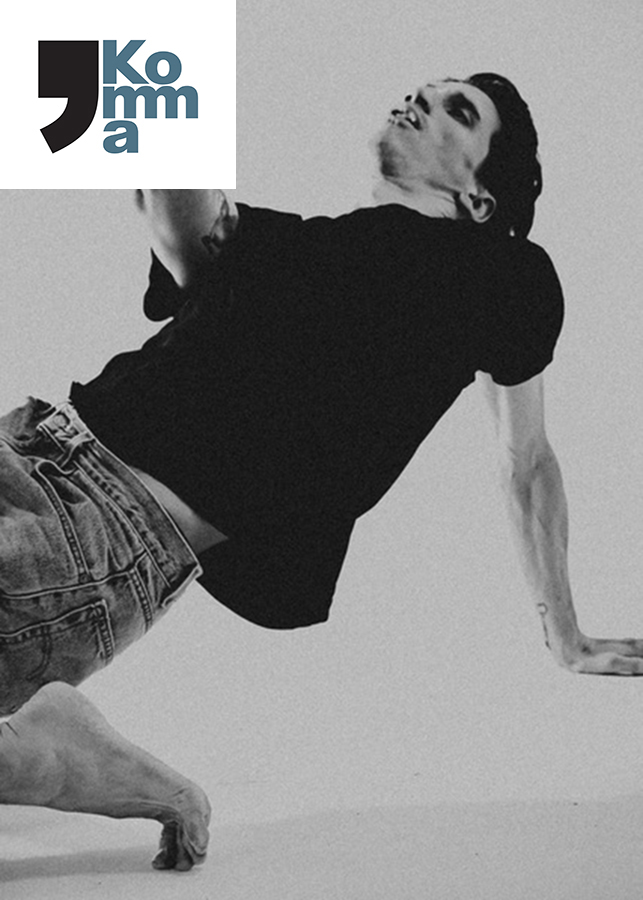 SIMON BUS
KOMMA #16 - dance / choreography
comment on 'Uit De Diepten'
04.06 2022
Simon Bus (Heerlen, 1989) started breakdancing when he was twelve, after seeing a Run-DMC video. Since 2002 he has been part of the breakdance crew 'Trashcan Heroes', with which he fanatically participates in as many battles as possible in the Netherlands and abroad. About ten years later he completed the study 'visual communication' at the Academy of Visual Arts in Maastricht. His B-boy name Statue betrays that his 'sense of image' has then also penetrated the breakdance scene. Simon's inquisitive way of looking and moving is gaining ground on the traditional view of breakdance. Gradually his style is shifting towards 'experimental' and he is becoming a true innovator of the genre. In 2018, he begins to devote himself to being a maker. He continues to experiment with urban dance forms such as house and breakdance. Based on his own hyperflexibility, he turns these forms inside out and upside down and also knows how to stimulate his dancers in this. This creates a very personal movement language which in turn also inspires specific design and lighting. Starting from narrative themes, Simon uses movement to create space for associations and he arrives at abstractions that give tranquility and at the same time invite disquiet. Virtuosity and extreme physicality are a constant source of humor and relativity.
In addition to being a choreographer, Simon remains a much sought-after dancer included in the work of Guilherme Miotto, Shailesh Bahoran and Dunja Jocic.
He will be working in PARK from May 31 to June 2. The performance will take place on Saturday, June 4.
Collaboration with DansBrabant / TalentHub 2020 Plan Podiumkunsten.
Click here for a video impression.