ABOUT PARK
PARK is an art initiative founded by Rob Moonen in cooperation with six other artists living in Tilburg. At this moment the PARK staff consists of Linda Arts, René Korten, Rob Moonen and Liza Voetman.
PARK is a platform for contemporary visual arts positioning itself between Kunstpodium T and Museum De Pont. PARK organizes an exhibition program in the former Goretti Chapel at the Wilhelmina Park in Tilburg.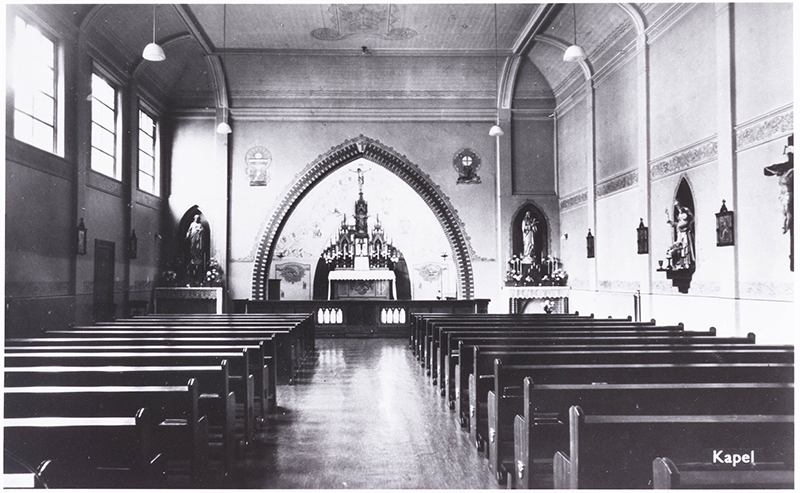 PARK focuses on current developments in contemporary art and on artists with extensive experience and proven quality. A platform is offered to regional colleagues but also to nationally and internationally working artists, precisely to make a positive contribution to the debate on contemporary art. The staff aspires the platform to be of national importance, but in each project a substantive link with the city is established. The staff is convinced that cooperation with other parties increases the visibility and functionality of the platform, and also stimulates the field of visual arts in the city and the region.
PARK aspires to create new connections, for example by inviting international curators to take note of the variety of regional artists and maybe include some of them in an exhibition. PARK wishes to contribute to the development of a favorable climate for production of visual arts by incorporating local and regional artists into PARK's national and international network.
Each year, five projects will be realized and if possible, accompanied by a matching program in the form of lectures, artist talks, music and film.
Collaborations
From 2015 to 2017 PARK realized, in collaboration with Cultural Center Jan van Besouw in Goirle, an exhibition program in the foyer of the cultural center there. Under the name PARKinG (PARK in Goirle) presentations of contemporary professional visual art were organized. These were solo exhibitions of mostly young artists who were also included in the PARK exhibition program.
From the beginning of 2017, De Nieuwe Vorst theatre in Tilburg and PARK are making incidental presentations of visual art in the De Nieuwe Vorst building under the name PARKVorst. These are exhibitions of artists who are at the boundary of visual art and performing arts. In 2019 PARK and De Nieuwe Vorst will organize a performance festival that takes place at both locations.
Other partners with whom PARK has collaborated or will collaborate include Kunstpodium T, Stichting Fundament, Incubate, Vincent van GoghHuis Zundert and Tilburg University.
Education
The educational program of PARK is about inspiring and informing with an open character. Being stimulated by the exhibition of PARK, by the student or visitor (of all ages and origins) is central. The education program contributes to the personal identity and knowledge development of the visitor and within the program the intrinsic motivation and discovery will be an important point of attention. Visitors can also be involved through guided tours, workshops and special evenings.
Would you like more information or are you interested in a tour or workshop? Then contact us at educatie@park013.nl.
PARK is member of 'De Kunst van Brabant'